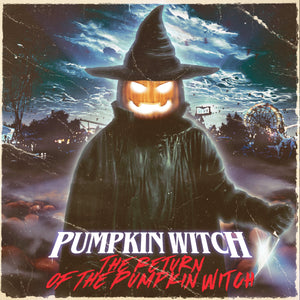 WHEN YOU BUY BOTH THE VINYL OR CASSETTE EDITION AND THE WEBSTORE DIGITAL EDITION AT THE SAME TIME, YOU WILL AUTOMATICALLY BE GIVEN A 50% OFF DISCOUNT ON THE DIGITAL
DBA301
Immediate download of hi-res .wav files.
Vinyl edition available here.
Cassette edition available here.
The Witch is back! And her web of evil is larger than ever, her vile plans call for nothing short of world domination...
The Three Dark Figures have conjured up 11 new tracks of creepy cackles and crazed cacophony that create an audiological kaleidoscope of terror. An emphasis on percussion and an evident influence from goth club music blends with the horror soundtrack-fueled dark ambience of albums past, making this perfect listening for any unholy ritual or cemetery soire.

You can lock your doors, board up your windows, and say your prayers but nothing can protect you from "The Return of the Pumpkin Witch"!
*The following was transcribed from a letter recently found in the pumpkin patch of the now-uninhabited town of Arkenfield*

Dear Eldest,
I hope this letter finds you well. I wanted to thank you for your advocacy on my behalf. The Council can be fickle, but I am glad it was ultimately recognized that the industry I operate within, as well as my influence and ambition, make me the proper candidate for fulfilling this next step towards Her ascension to power. I started my work as soon as I received your official confirmation. My family has long cared for The Heart, but never had my ancestors worked directly with The Three, truly this is a great honor.

It is difficult to believe that it has already been two years since She returned to our realm. Elder T. G. did an admirable job in aiding the harvest of enough souls to carry out Her return, especially given the amount of time that was needed. For decades he kept an entire town (excepting that rather troublesome newspaper reporter) blind and complacent while The Three slowly culled them, leading up to that marvelous grand finale. It is truly inspiring, though the work set before me is on a grander scale than that. I am excited to take on this task and lead us into a future wherein She shall reign with us at Her side.

All Hail the Pumpkin Witch,
Elder I. W.