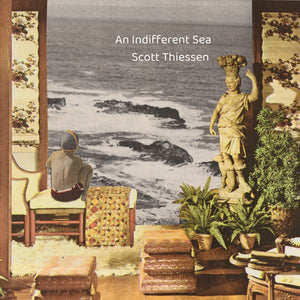 THIS IS A PRESALE ITEM DUE TO SHIP IN NOV 2023. ANY ITEMS ORDERED WITH THIS RELEASE WILL NOT SHIP UNTIL EVERYTHING IS READY. 
PLEASE NOTE, THERE ARE NO CANCELATIONS ON PRE-ORDERS. FOR UPDATES ON SHIPPING SCHEDULE, PLEASE KEEP YOUR EYES ON THIS PAGE
DBA318
Limited to 50 copies (8 remaining)
Bandcamp edition available here
Returning with his second solo album, Scott Thiessen continues to explore the space where ambient and country coexist, showing this is an ever expanding horizon. The lonesome cowboy sound of his previous release, 'TOY', plays a crucial part on the new 'An Indifferent Sea' as well, but here is a starting point for surprising routes through pop melodies, clattering rhythms, and most importantly, balladeer vocals. These elements never dominate though, carried in on an ocean swell and then leaving again just as mysteriously, creating a sense of songs almost heard. Creating what the artist calls his version of a surf record. Not one which sounds like a party on the shore, but one translating the feeling of Thiessen experiences being in the ocean. Where once deserts were seas, here the sea is not yet a desert. 'An Indifferent Sea' is a surf album, cowboy songs, spread as wide as the eons of time it takes for water to turn into land and back again. The resulting record delicately defies category; a true poetry of the West Coast.

Thiessen was a member of the noise rock group rRope. Featuring beats by Back To The Future The Ride. This album was recorded and produced at his home studio in Berkeley, CA.
This album does NOT come w/ a DL code slip
If you are a Deathbomb 7th wave subscriber, this will be included as your 10th release (but brace yourselves, you'll be getting a bonus 11th release tba soon!)